Document properties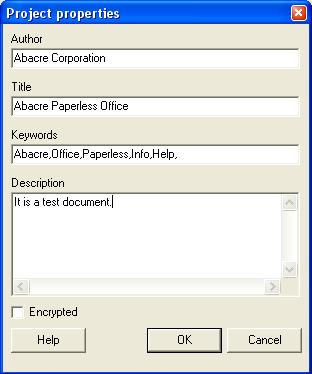 Author
If you wish to customize your document, first of all edit Author value. Enter your name, surname, nickname or name of your company. For example: Abacre Corporation.
Title
Title helps your friends and colleagues to recognize your document. Also, it helps to quick find it. Enter a title in the Title box. For example: Abacre Paperless Office.
Keywords
Keywords may be used by search engine to determine a documents relevance to the current search. Just enter most common description words of your document. For example: Abacre,Office,Paperless,Info,Help and so on.
Description
Enter in this box a full description of your document. Describe all nuances of the document. Also it helps to quick find your document among other documents.
See also:
Getting started | Creating electronic documents | Opening electronic documents