Release of minor versions of classical Abacre Point of Sale products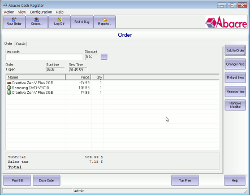 Released:
Abacre Restaurant Point of Sale v11.7
Abacre Retail Point of Sale v10.7
Abacre Hotel Management System v8.7
Abacre Cash Register v7.7
Abacre Inventory Management and Control v7.7
The list of changes:
* Feature: added new option: Print items of all categories located on Parameters tab of notification printers. This option allows to print all items of order regardless of item's category.
* Improvement: online activation method will show registration and workstation keys in case of activation errors.
* Bug fixed: Touch Panel (Virtual Keyboard) was not shown when clicking on Chit Number field on Order window.
* Bug fixed: when using modifiers templates for bill and notification printers modifiers template tags could be also printed.
For Abacre Hotel Management System:
* Feature: added possibility to set room discounts and manual prices.
* Feature: Implemented support of Folio templates.
* Feature: added new option on menu Configuration - Preferences - General: Allow Charging to Room.
* Feature: added Change Room button on Stay window.
* Feature: added Recalc Charges button on Stay window.
* Bug fixed: error message could be shown when visiting Reservations or Stays windows for reservations/stays with many rooms.