Release of minor versions of classical and cloud Abacre Point of Sale products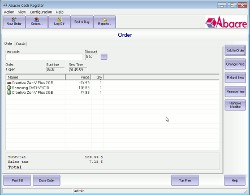 Released:
Abacre Restaurant Point of Sale v10.2
Abacre Retail Point of Sale v9.2
Abacre Hotel Management System v7.2
Abacre Cash Register v6.2
Abacre Inventory Management and Control v6.2
Abacre Cloud Restaurant Point of Sale 4.1
Abacre Cloud Hotel Management System 4.1
Abacre Cloud Retail Point of Sale 4.1
The list of changes:
* Feature: added a possibility to view the program in full screen by pressing F11 button or via menu View - Full Screen. It's useful when using the program on small screens like 10" tablets.
* Feature: added new button Transfer to Worker located on Orders window. With this button it's possible to transfer all open orders from current worker to any another worker. The button is disabled by default. To enable the button check security role "Show Transfer to Worker button" on Security Roles window.
* Improvement: implemented more accurate algorithm of inventory adjustment for conversion of databases produced by version of program released 3 years ago.
* Bug fixed: sales tax could be calculated as zero for some orders when Automatically Select Table option was unchecked. This issue had place after choosing order type for sales order.