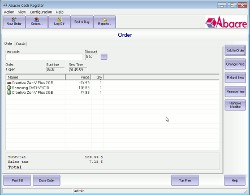 * Feature: support of Datacap NETePay for credit card processing. With using Datacap NETePay technology you have access to all major USA
processors like First Data, Mercury, TSYS and others. Read more.
* Feature: new field: Total Rounding Method located on menu Configuration - Order - Order Details. The possible values for this parameter are nearest and down. Thus with this method it's possible now to round down to the previous 10 cents, for example. Read more.
* Feature: added new report: Gift Cards Outstanding Balance.
* Improvement: automatically saving client information before pressing Choose button on Clients window.
* Improvement: End of Day procedure shows order numbers of open or closed orders.
* Improvement: Better a gift card balance updating on new gift card creation.