Preview area
The 'Preview' area is the part of the Main window where you can see how your animated GIF actually looks. By using the 'Play'

and 'Stop'

buttons, you can start, stop and repeat the animation.

The buttons at the bottom are used for choosing the background color of the 'Preview' area. By clicking any of them, you can select the corresponding color.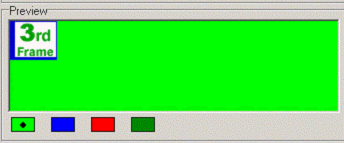 By double-clicking on them, you open the 'Color' palette dialog window. There you can choose any other color to substitute the one selected earlier.